This tab covers the expanse of what was involved in the fight to Save El Rojo Grande Ranch. The documents, vision plans, Resolutions, comprehensive plans are all here. We researched and produced 50 documents here, numbered for your convenience. Please use this resource for future projects. Add more ? Email us your findings and we will add them to this important collection. 
Email your research, questions or information to 
elrojogranderanchinsedona@gmail.com
. Your factual information will help the citizens and the Yavapai County Board of Supervisors better understand the issues regarding the lands in and around Sedona, El Rojo Grande Ranch and neighborhoods about rezoning issues and other matters.
.
If you have any questions or inputs about the factual nature of any information shown on this website, please contact us at the email address shown above.  We strive for accuracy, and we will immediately correct any factual errors that our readers find on this website once we are contacted.
Index: As the website receives more facts, we will add them.   Click on or near the green links
#50 WOW – Here it is folks!  Enjoy https://vimeopro.com/user7958149/big-red
#49   Research on Oak Creek, Dry Creek and the Verde River. 
But pressures on the river system mean that innovation and effort will be required to sustain the river's flows in the future. Most flowing rivers and riparian habitats in Arizona have been badly degraded or lost through human changes such as groundwater pumping and diversion of surface water. Although the Verde River system is experiencing impacts from these same threats, there has been growing stewardship in the watershed in recent years. Restoration and long-term protections are being sought for a number of areas along the river.
The future flow of the Verde River lies with citizens, as populations grow and water demands increase. Since water flow in the river has already decreased, and studies show that more flow will be lost to human use and changing climate conditions, we aim to work now on solutions to protect the Verde River so that this unique gem remains for you and for the generations to come.
#48 Radio Broadcast on KAZM780 www. kazmradio.com interviewed John Black and Ernie Strauch on MLK Day. http://verdevalleyindependentdemocrats.org
#47  The KSB Presentation at the Sedona Library  https://vimeopro.com/user7958149/big-red  ZIPPO Productions shows the page with all the Big Red videos.
#46  This is a compelling power point from a resident that visits the Phoenix area ELS Parks.  PP ERG P&Z Meeting Jan. 17, 2019
#45 White Paper #2 by John Black submitted to Yavapai County on January 7, 2019. A continuation of his 12/7/2018 White Paper ( See #36 below) ERG – White Paper #2 by John Black 2 v15
#44  Transcript of the Randy Garrison Radio Interview ( see below for audio version) ERG Randy Garrison radio interview12.17.18
#43. Place this link into your browser for the Verde Valley Regional Plan     http://www.yavapai.us/Portals/34/VerdeValleyRegionalLandUsePlan.pdf?ver=2016-07-08-104533-813
#42  Transcript of P & Z December 20th meeting 12-20-18 YC P&Z Meeting (Transcript)
#41  A White Paper about the workforce & economic situation in Yavapai County – a summary ERG A two page White Paper on Economic Development
#40  Randy Garrison Interview on 12/17/2018 Podcast Democratic Perspective, approx. a 44 minute talk from the   verdevalleyindependentdemocrats.org. http://verdevalleyindependentdemocrats.org/2018/12/19/garrison-interview-podcast-december-17-2018/ 
#39  ALSO SEE #24 The Traffic study started in 2015 has several goals – this is one, and here is a picture of their growth predictions.  A traffic Plan Study is needed to promote economic growth and community livability. SEE THE ENGINEER ANALYSIS BELOW #24
#38  Attached is the ADOT traffic study that includes SR89A between Cottonwood and Sedona 2015. erg. vvmtp_publicmeeting2_presentation
#37  The YAVAPAI County 12/20 meeting will be on-line soon. As a video: Here is a transcript  of the meeting. ERG 12-10-18 YC P&Z Mtg recordingDRAFT
#36  White Paper #1 written and compiled by John Black 12/7/2018. Here below is index of the contents: ERG WHITE PAPER2 J BLACK rezoning report vc
Section 1: The impact of the proposed rezoning of El Rojo Grande Ranch on the adjacent the Rojo Grande Communities
Section 1.1: An overview of the Rojo Grande Community
Section 1.2 Statements of Opposition from landowners in the Rojo Grande Community
Section 2: The impact on traffic
Section 3: The conformance to development standards
Section 4: Maintaining the character of the neighborhood
Section 5: Preservation of safety and welfare
Section 6: Consistency with the comprehensive plan
Section 7: Damage to the flora and founa of the Ranch
Section 8: The viability of the proposed development as workforce housing?
Section 9: Water Rationing by Sedona Ventures
Section 10: Wastewater Disposal
#35http://sedonaverdevalleyredrocknationalmonument.org/natural-history/. Oak Creek is a perennial, state-designated special waterway that bisects Sedona. The presence of such a major riparian corridor, along with ephemeral and intermittent streams such as Dry Creek, greatly enhance the diversity of wild species found here. The variety of habitats found near Sedona results in the area also holding a significant share of threatened, endangered, and sensitive species as well. A large number of these are connected to the Oak Creek corridor and other riparian habitats.
Pronghorn antelope are of high interest and are identified by the Forest Service as an indicator species for the impacts of habitat management activities. As with so many animals whose survival is of concern, destruction or alteration of pronghorn habitat is a key factor. Road building and advance of urban areas both destroy and fragment their habitat.
Here is a true story: Eliu A. Tony Camacho " For the last 6 years I have helped the owner of the "Dos Leo's", the adjacent ranch to the El Rojo Grande. I have first hand experience of the beauty of both properties. I have hiked Dry Creek which surrounds the Dos Leos and goes through the El Rojo Grande. I have hiked the game trails that lead you up to the cliffs and view points which surround the ranches and provide nesting areas for the Red Tail hawks which can always be seen in flight above the El Rojo. On any given day you can see Javelin, mule deer, bob cats, coyotes and every species of birds known to this area. On several occasions I have even seen mountain lion and elk come across the fields in front of Dos Leo's and run up the trails that lead up to the cliffs from the El Rojo. I have witness in amazement as Dry Creek went from stone dry to a raging river as monsoon storms dumped their much needed moisture. As the seasons changed I have seen the blossoms of the cactus flowers that seem to be everywhere throughout the property. Then in contrast I have driven through the mobile home park Sedona Shadows, which is next to El Rojo Grande. Instead of the beauty of El Rojo Grande, you have a big let down because it's just "a trailer park" a scab on land and El Rojo Grande doesn't need further scabs. Please leave this area zoning as it is."
#34   In the Facts below, there is a Resolution 1156 – accepted in 1998 that Yavapai County, Since then Yavapai County has a new Comprehensive Plan, and has accepted the RRRCA Community Vision Plan in 2014.ERG Definition of a Resolution
 #33   Takeaways from the ADOT study:  More info to come
Population and Housing Unit Projections
All 
unincorporated Yavapai County within study area
2015 population 4955: housing units 3,022
2025 population 6052: housing units 3690
Added population 1200: added housing units 650 (matches 2025 projections for entire unincorporated Yavapai County)
Study projected no growth in housing units between Page Springs Rd and Sedona on SR 89A
With Roadway Improvements Short-term Congestion
NEAR Capacity on SR 89A between Page Springs Rd and Sedona without El Rojo Grande
With Roadway Improvements Long-term Congestion
NEAR Capacity on SR 89A between Cottonwood and Sedona without El Rojo Grande
#32   This sign was seen at the ELS Marriot Meeting last Wednesday evening. Please read the sign carefully.
Our question to Yavapai County is if this land is so compatible – why is the developer asking  for a zoning change? It makes no sense.
"Good zoning actually defines the rights in relation to the rest of the community, thereby protecting each citizen from infringement by a new or possible less scrupulous neighbor. "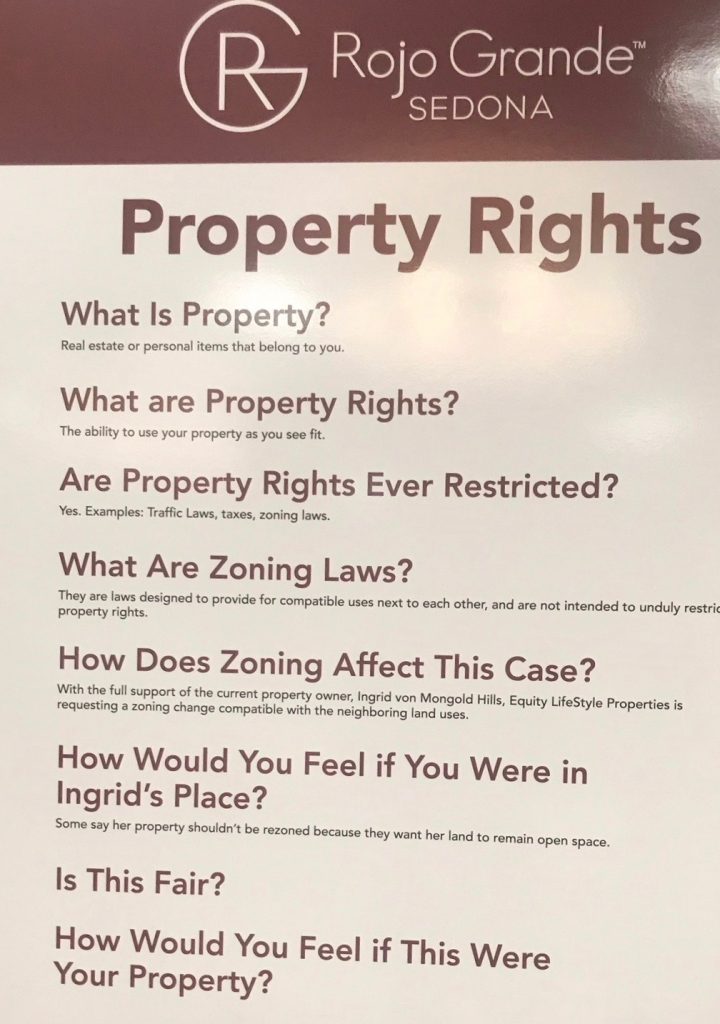 #31 This YC Planning & Zoning document, has steered us to as what the Planning and Zoning will use as their criteria. http://www.yavapai.us/Portals/0/OrdinancesRegulations/Ordinance-Planning-Zoning.pdf
#30 WE have a couple thoughts to share with this website when  asked for our input from Sedona Shadows:  1. ELS has not kept many of their promises to keep up and repair roads in the park which are presently in bad repair and endanger resident safety when walking.  2. ELS charges unreasonably high rent in Sedona Shadows and will do the same in their new development.  Future possible customers should be made aware of these two disadvantages of buying into their proposed development, as well as any other disadvantages not mentioned in this email!  I hope you can find ways to do that.  3. Has anyone with clout contacted the Nature Conservancy to see if they would buy this land so it could remain unspoiled wilderness?  They have lots of supporters.  They should be contacted asap in order to give them opportunity to make an offer before Els gets any further in their plans.  There may be many locals who would happily contribute money to make it possible for Nature Conservancy to buy this ranch.
We have attended one of ELS's meetings at Sedona Shadows, which was basically a sales pitch.  Any future meeting we attend needs to be one in which attendees are allowed to speak, however briefly.
We are so glad you are doing so much to oppose the ELS development as it is presently planned and we back you 100% insofar as we are able.  We love Sedona, and want to keep it as unspoiled and natural as possible for the future.
#29  Riparian protection is one thing, but when the development requires two or three massive BRIDGES, that another issue to ask about.  Before the ranch their is a  89A bridge that crosses Dry Creek.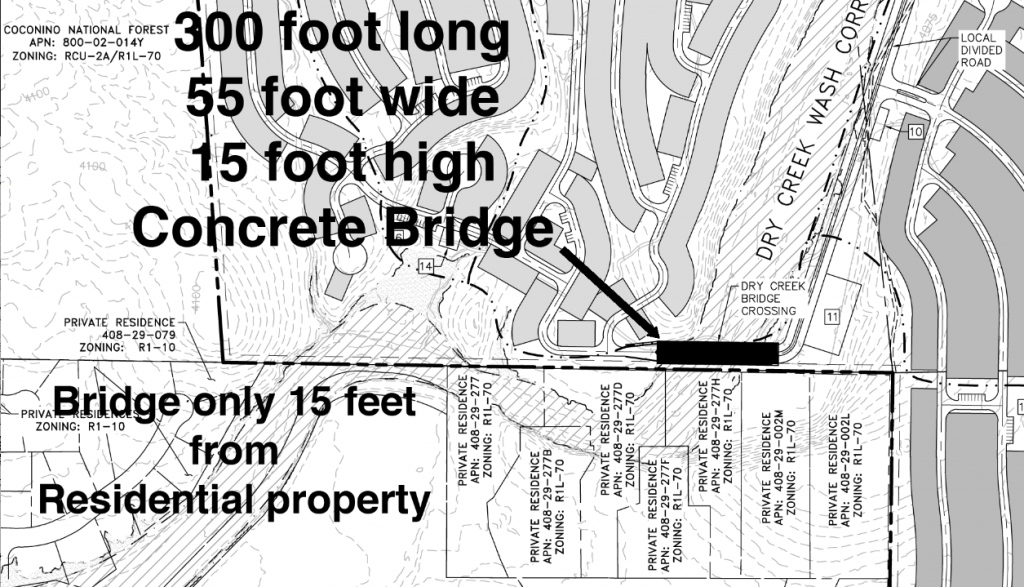 #28  Facts about rezoning, FYI and helpful.    ERG Rezoning report
#27.  VERDE VALLEY NEWS STORY 12.8.2018 http://m.verdenews.com/news/2018/dec/08/rojo-grande-county-pz-review-172-acre-manufactured/
#26. December 2014  Red Rock Rural Community Association(RRRCA).  (4Years old) Vision Plan:erg RRRCA VisionStatement2014
#25  REPEAT November 16, 1998 The Resolution #1156 of Yavapai County, Arizona establishing common bonds and principals for regional co-operation and co-ordination in land use planning and development in the Verde Valley. Though 20 years old, the Resolution was created by the surrounding  governments and it passed. Here is the definition of a Resolution:  The official expression of the opinion or will of a legislative body. The practice of submitting and voting on resolutions is a typical part of business in Congress, state legislatures, and other public assemblies. These bodies use resolutions for two purposes. First, resolutions express their consensus on matters of public policy: lawmakers routinely deliver criticism or support on a broad range of social issues, legal rights, court opinions, and even decisions by the Executive Branch. Second, they pass resolutions for internal, administrative purposes. Resolutions are not laws; they differ fundamentally in their purpose. However, under certain circumstances resolutions can have the effect of law. ERG Yavapai County Resolution # 1156 11.16.1998
#24  Engineer Tom Newland from Colorado was asked about the stats of traffic, sewer and water. This is his opinion.NPRI Sedona Impacts letter 12-6-18 Final
#23 ERG Public Hearing Notice for EL Rojo Grande Ranch Hearing
#22 Click on the link, and then select Item 8A – AB 2428 The Sedona Meeting about the Rojo Grande Development. MUST WATCH TV.     http://sedonaaz.swagit.com/play/10092018-1017
#21  – This is current 2018 research on RV & Manufactured Home Parks and how fragile an investment they are for new buyers, due to the temporary security they offer the residents. Please read each story.
 https://www.bozemandailychronicle.com/news/city/a-place-to-land-the-slow-struggle-for-bozeman-s/article_4b595790-a092-523c-b547-f1cdd707cb1a.html
#20. ERG RRNews Articles ON THE FOREST SERVICE LAND EXCHANGE – Original.
#19  RG Citizen Participation Plan. This is a required step in the Yavapai Process but is not this lengthy anymore. 2/3's of this document has been eliminated.
#18 ERG Douglas Fredrikson Letter from the Original Architect of El Rojo Grande Ranch Letter to Yavapai County.
#17    Red Rock News 11.16.18 – 1. RRN Trish letter.Nov 16,2018      2.Red Rock News – Offield Letter Nov 10, 2018   3. 
Red Rock News – Nov 23, 2018
MAIL YOUR Letter to the newspapers TODAY !!  Sedona Red Rocks News:  300 words or less  mailto:editor@larsonnewspapers.com  Cottonwood – The Verde Independent : 300 words or less mailto:editorial@verdevalleynews.com  Coronino – AZ Daily Sun : 350 words or less. http://www.azdailysun.com  For this one you need to submit through their portal.  So open link and in the upper left hand corner is a menu icon (the lines in the square)  click on the menu and a drop down appears, click opinion, copy and paste then click submit. Phoenix – AZ Republic   – You can do an op-ed 550 words or less or letter to the editor 200 words or less. http://www.azcentral.com. Click on "more" on the right hand side top, click opinion, scroll down just a tiny bit and click on Send a letter to the Editor.  If you opt for the Op-ed you MUST include "MY TURN" in the subject line.
#16. These are the County Commissioners as of October. Chairman Jim Stewart; Commissioner Robert Cothern; Commissioner John McReynolds; Commissioner Curtis Lindner; Commissioner Mark Mumaw;  Commissioner James Peterson;  Commissioner Dale Famas; Commissioner Sandra Marlin-Griffis;  and Commissioner Michael Ellegood. We want to make sure they are educated and aware of this development and have seen this website – do any of our readers know them ?
#15   Here is a links on some history of how a highway becomes a Scenic HiWay.      Historic Highway 89a
https://www.azdot.gov/about/historic-roads/list-of-historic-roads
https://www.azdot.gov/docs/default-source/scenic-routes/arizona_scenic_roads_map.pdf?sfvrsn=2
#14  A letter from Nannette Armstrong, President to support NO CHANGE of zoning from the Red Rock Rural Community Association ERG RR Rural Community Association letter
#13   An explanation of the subject, and a sample letter for ADOT, requesting a full traffic study.ERG Traffic Study2 email
#12  ERG FAQ Q &A Yavapai County 11.1.2018 This letter explains more about of the process during the meeting dates.
#11 Sedona City Council Speaks :  Letter to Yavapai County ERG Letter Rojo Grande Sedona – City of Sedona Comments 
#10. Fact:  Regarding RV Park: In the Sedona Council meeting, the ELS/Buyer representative said that most RV'ers tend to say on-site in the RV Park during their stay where they reserve a space for 1- 10 days per stay.  This is absolutely a false statement.
#9.REPEAT  Vision Statement. Here is the Red Rock Rural Community Association Vision Statement 2014. http://www.rrrca.org/rural/images/VisionStatement2014.pdf
#8.   A White Paper by John Black on the business practices of Buyer/Developer/ELS the owners of Sedona Shadows – and the rent increase since their purchase. Sedona Shadows rent story (1997-2017) (Version 7)
#7. Sedona Red Rock News 10/17/2018  City Rejects Rojo Grande Red Rock News 10.17.18
# 6. The Power Point Presentation  – El Rojo Grande Ranch (Less than 7MB) <= Click this link to download the Power Point file onto your computer. Then look for the downloaded file and click on it to open!
Something Special for our readers…….Please click on the black box below to hear the frogs in Dry Creek in July, at the beginning of the Monsoon season, when waters start to flow. 
FROGS============FROGS================FROGS=======ARIZONA FROGS================
# 5.  A video of the Sedona City Council Meeting on October 9, 2018 at 4:30 PM.  Sadly, Sedona has no zoning authority over the Ranch, even though it is located only 2.5 miles outside the Sedona City limits Click on the link, and then select Item 8A – AB 2428 to watch a video of the discussion of the El Rojo mobile home park proposal.. http://sedonaaz.swagit.com/play/10092018-1017
#4
.
 SEDONA CITY COUNCIL Click on the link below to see the Agenda for the 
Sedona City Council's October 9
, 2018 meeting. The discussion of the 688-unit mobile home park is shown on the first page, under REGULAR BUSINESS as item a. AB2428. 
http://www.sedonaaz.gov/Home/ShowDocument?id=35775
# 3. A  Letter written from a Concerned Citizen regarding the Yavapai County Comprehensive Master Plan ERG Neighbor letter
# 2. A Partial and Incomplete Review of the Yavapai County Comprehensive Master Plan – Listed in the document below are RELEVANT sections of the Yavapai County Comprehensive Plan that relate to the Development of El Rojo Grande Ranch .  Click here for the writer of #3  items of relevant concern about this development.  Excerpts from the Yavapai County Plan
#1. Yavapai County Comprehensive Plan of September 17, 2012 http://www.yavapai.us/Portals/34/Reference%20Materials/YavapaiCountyComprehensivePlan.pdf?ver=2016-06-27-123353-007
Page – Facts, Other Agencies and Citizens Opinion – If you are unable to access anything, or if YOU have facts or letters you wish shared, correct or change please email them to this email below www.elrojogranderanchinsedona@gmail.com