Equity Lifestyle Properties: Google News
04-25-08 – Mobile homeowners fight rent hikes – ABC 7 News
2008-2014 – Contempo Marin Homeowners Association v. Manufactured Home Communities, Inc.
04-16-08 – The defendant's story – Voice of San Diego
05-15-12 – Affordable Housing for Seniors in the Cross Hairs in Chicago – The Nation
06-03-13 – San Rafael rent control case could impact thousand – ABC 7 News
04-20-14 & 08-12-16 – Jury awards record $111 million to trailer park residents – The Mercury News
01-18-17 – ELS Settles California Lawsuits – Business Wire
03-05-17 Mobile home park victory: A negligent owner, $10 million settlement and the San Jose residents who prevailed – East Bay Times
https://www.eastbaytimes.com/2017/03/05/4434205/

Equity Lifestyle Properties Inc has steeply raised rents at Sedona Shadows for 20 years, causing the values of mobile homes there to plummet… and then purchased those homes at steep discounts, for resale to new renters.

Equity Lifestyle Properties Inc (ELS) specializes in buying "underperforming" 55+ mobile home parks, and then converting them into highly profitable enterprises. Sedona Shadows (a 55+ mobile home park just outside the western gateway to Sedona) is a good example. ELS purchased the Sedona Shadows mobile home park in 1997. Then (as the existing rental contracts expired and had to be renegotiated) ELS began to sharply increase rental rates. Overall, since ELS bought Sedona Shadows in 1997, it has increased rental rates by over 200%. Meanwhile, the total inflation from 1997 to 2017 has only been 52.7%. (See Figure 1)

Figure 1

The sad story of residents who bought mobile homes in Sedona Shadows 

Over the last 20 years, ELS has raised the rent in Sedona Shadows at almost FOUR TIMES the rate of inflation. Meanwhile, retired seniors living in that 55+ community (who are typically living on fixed incomes) have become more and more desperate, as they try, again and again, to cut their living expenses to pay the ever-increasing rents, so they can remain in their so-called "affordable" mobile home. (This process has been called "wealth extraction" by some economists.)

Residents are holding Food Banks to assist their fellow residents, the situation is not good, and the generosity of many will help.

Homeowners who eventually find themselves unable to pay the ever-higher rental rates are in a very precarious situation. According to their rental contracts, falling behind on their rent is grounds for eviction, along with a demand to remove their mobile home from the park, within 60 days! Faced with potential eviction, they might try to find a buyer for their mobile home. It is only then that they discover that the $90,000 retirement savings that they "invested" in their home is mostly lost, because of the highly inflated rent. 

If the homeowners become desperate to just get free of their lease, they might be forced to accept an offer of $15,000 for their $90,000 mobile home. However, their ELS rental contract then requires them to report that deeply discounted offer to ELS, who can exercise their "Right of First Offer" to (1) purchase the home at this deeply discounted price, and (2) market that home to a new tenant, along with new rental terms that make it more attractive to the potential buyer. 

Sign posted in Sedona Shadows

If the homeowners are not able to find a buyer at any price, they might be forced to just abandon their mobile home. Their rental contract then allows ELS to simply claim ownership of their home, and sell it to another renter, along with new leasing terms that make it more attractive to the potential buyer.  

Below is a chart that shows the average rent in Sedona Shadows over the last 20 years. It is now over 3 times as high as when ELS bought Sedona Shadows in 1997. See the White Paper on FACTS Tab

Notes:

[1] Rent figures taken from Equity Lifestyles Annual Reports (1997 – 2016)

[2] Starting with their Annual Report for 2017, ELS has stopped showing their rental rates for their mobile home parks.

[3] Monthly rents rounded off to the nearest dollar.

[4] Consumer Price Index (CPI) figures taken from:

http://www.usinflationcalculator.com/inflation/consumer-price-index-and-annual-percent-changes-from-1913-to-2008/

[5] Inflation figures taken from: https://www.usinflationcalculator.com/

The Equity Lifestyles (ELS) website

Handling and dealing with thousands and thousands of mobile home parks and neighborhoods may lead disputes over decades, yet on behalf of the employees that Yavapai County feels may live here in Rojo Grande as "affordable housing",  what needs to be determined is if county officials are poised to deal with myriad of problems that appear to be normal "business as usual" for tenants in parks like these. For example 90 day move -out clauses, difficult and overbearing managements styles, and finally residents that have no protection should the developer decide to sell the land. 

Here are three stories that explain the home park situations in cities around the United States. 

This is current 2018 research ( WITH ONE OLDER STORY) on Home Parks and how risky an investment they are for new buyers/RESIDENTS , due to temporary security and lack of longevity they offer the residents. Please read each story.

2. https://www.bozemandailychronicle.com/news/city/a-place-to-land-the-slow-struggle-for-bozeman-s/article_4b595790-a092-523c-b547-f1cdd707cb1a.html

3.   https://indyweek.com/news/mobile-home-park-residents-caught-catch-22/

4.https://kuow.org/stories/when-all-land-sold-where-will-mobile-home-owners-go/

Thank you for these facts. Please send us your stories, comments and concerns – as we will only print what we have found to be factual and in public domain.
DEVELOPERS PLANS:
Below is the "Conceptual Site Plan" that Equity Lifestyles' (ELS) submitted to the Yavapai County Planning Department, along with their "Letter of Intent" to build a 650-unit home park and RV Park at the Western Gateway into Sedona.
Click on the maps and plans to enlarge.
AMENDMENT OVERVIEW:
This is an Amendment to the Letter of Intent (Project Narrative) as initially submitted on September 19, 2018, for the Rojo Grande Sedona project.
There are five (5) amendments to the project, as reflected in the revised Site Plan (dated November, 2018), which are as follows:
▪  Redesigned entry due to additional review comments from ADOT (Arizona Department of Transportation)
▪  Shuttle stop and associated parking for area transit has been added along the frontage of the site
▪  Fire defensible 30-foot buffer adjacent to the Coconino National Forest and added secondary access, as well as changes to the wash crossings and street designs, as requested by the Sedona Fire District
▪

Reduction in the number of units to a new total of 650 total spaces (600 Manufactured Home and 50 Recreational Vehicle spaces)

from the initial total of 688 total spaces (628 Manufactured Home and 60 Recreational Vehicle spaces)
▪  Wastewater Treatment Facility has been relocated to an area near the front of the site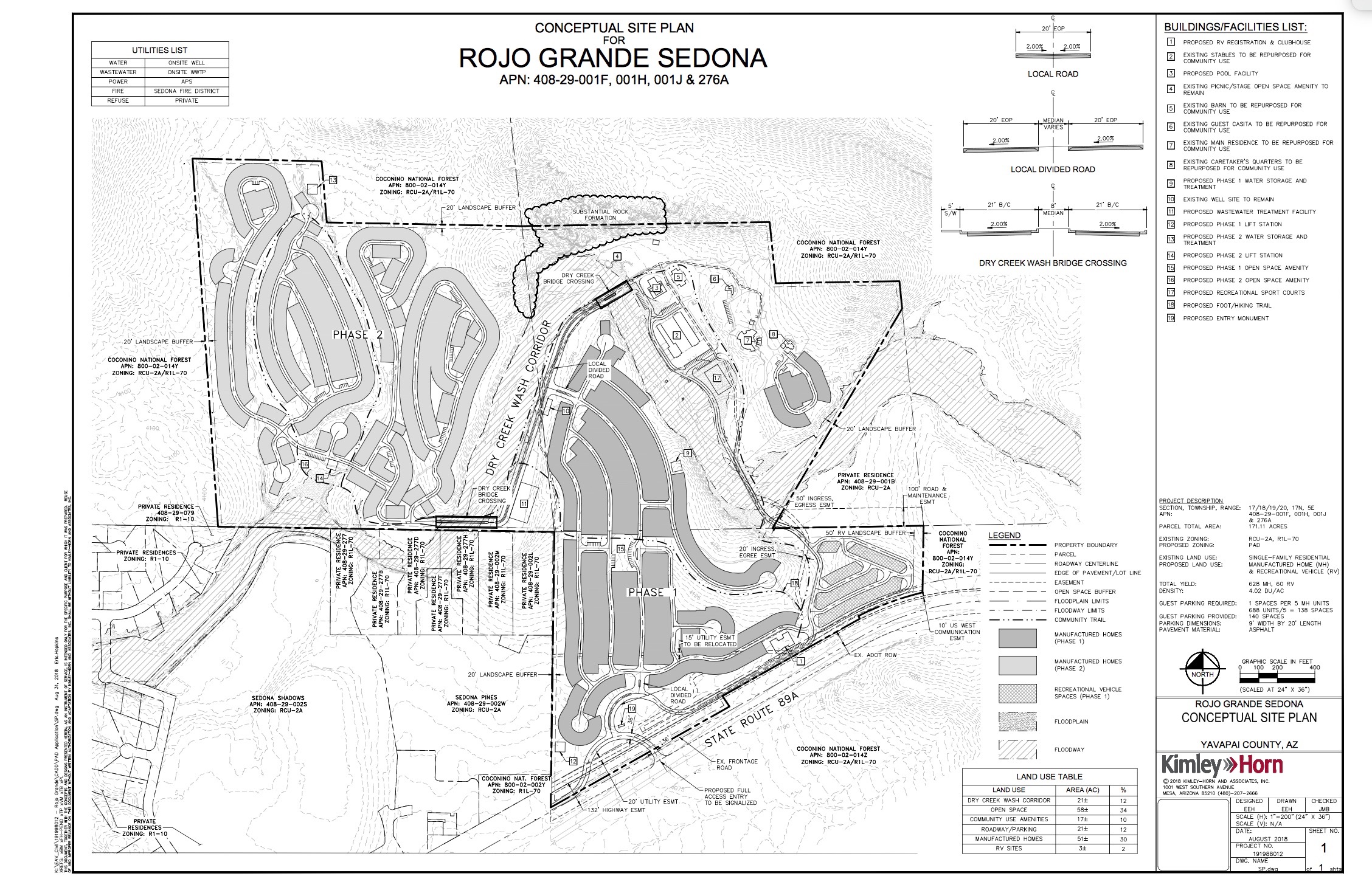 Site Plan – Rojo Grande Sedona (11×17) 
*ELS has requested a Planned Area Development (PAD) rezoning for El Rojo Grande Ranch. PAD zoning is intended to allow developers to create Master Plans for self-contained communities, with shopping centers, housing, restaurants, recreational areas, public storage rental facilities, industrial office parks, and public parks – communities such as Del Webb's Sun City.*

To request the rezoning of a property for a Planned Area Development, the developer must submit a site plan, which details how the various areas within the property will be zoned, such as Residential areas, Shopping centers, Industrial parks, Office parks, and Public parks.*

ELS has submitted a Conceptual Site Plan that shows shoulder-to-shoulder mobile homes, along both sides of their network of asphalt roads – with a lot size that puts 12 doublewide homes per acre. With no gas stations, no grocery stores, no drug stores, and no restaurants, the residents will need to leave this "planned community" for virtually all of their needs.*

As part of the process for rezoning EL Rojo Grande Ranch, members of the public will be permitted to submit letters (or emails) of support or opposition to the Planning and Zoning Commission. The Planning and Zoning Commission then holds a public hearing, in which members of the public are each allowed to speak for 3 minutes directly to the Commission.* Please go to How to Help tab for times and dates

The Planning and Zoning Commission then makes a recommendation to the Yavapai County Board of Supervisors. The Board of Supervisors will then vote on the final yes/no decision.*

If a PAD zoning is ultimately granted to the developer, the developer is then allowed to propose changes to their Conceptual Site Plan. Each of these proposed changes is reviewed by the County Development Services Director in Prescott. The Director decides whether the proposed change is "minor" or "major". For example, if the Director decides that a proposed change would have a "significant impact" on properties adjoining the PAD (or on the roadways adjacent or external to the PAD-zoned property) it would be called a "major" change. On the other hand, if the Director decides that the impacts are not significant, then it would not be a major change, i.e. a "minor" change.*
The Director's decision has major implications. If the Director judges that change to be significant, then the public is notified. They are then
permitted to submit letters (or emails) of support or
opposition to the Planning and Zoning
Commission, and the Planning and Zoning Commission
 will then hold another public hearing.

*
On the other hand, if the Director decides that the change is not significant, the public is not notified of the change, and the developer is given the "go ahead" within 10 days.

*above is new
If you want to dig into all the nitty-gritty details of the ELS plan, you can click on the link below to read the Letter of Intent that ELS submitted to the Yavapai County Planning and Zoning Department on September 19th, 2018.
Letter of Intent (Project Narrative) – Rojo Grande Sedona – PAD Rezoning – 19-SEP-2018 – with Exhibits
 The maps below are enhanced to show (in black) the areas of the ranch that ELS will need to bulldoze and scrape clean, in order to install their asphalt roads and the concrete footings for the 688 now 600 manufactured homes on concrete pads and 50 RV Park sites in the development. Note: There will also be a lot of trenching and disturbance in other areas (outside of those blackened on the map) to install all of the utilities across the Ranch for the 688 sites within the park.
Added into the first image below are the blackened areas that will be covered with Asphalt, so the map is showing both the mobile home sites and the asphalt roads as blackened areas.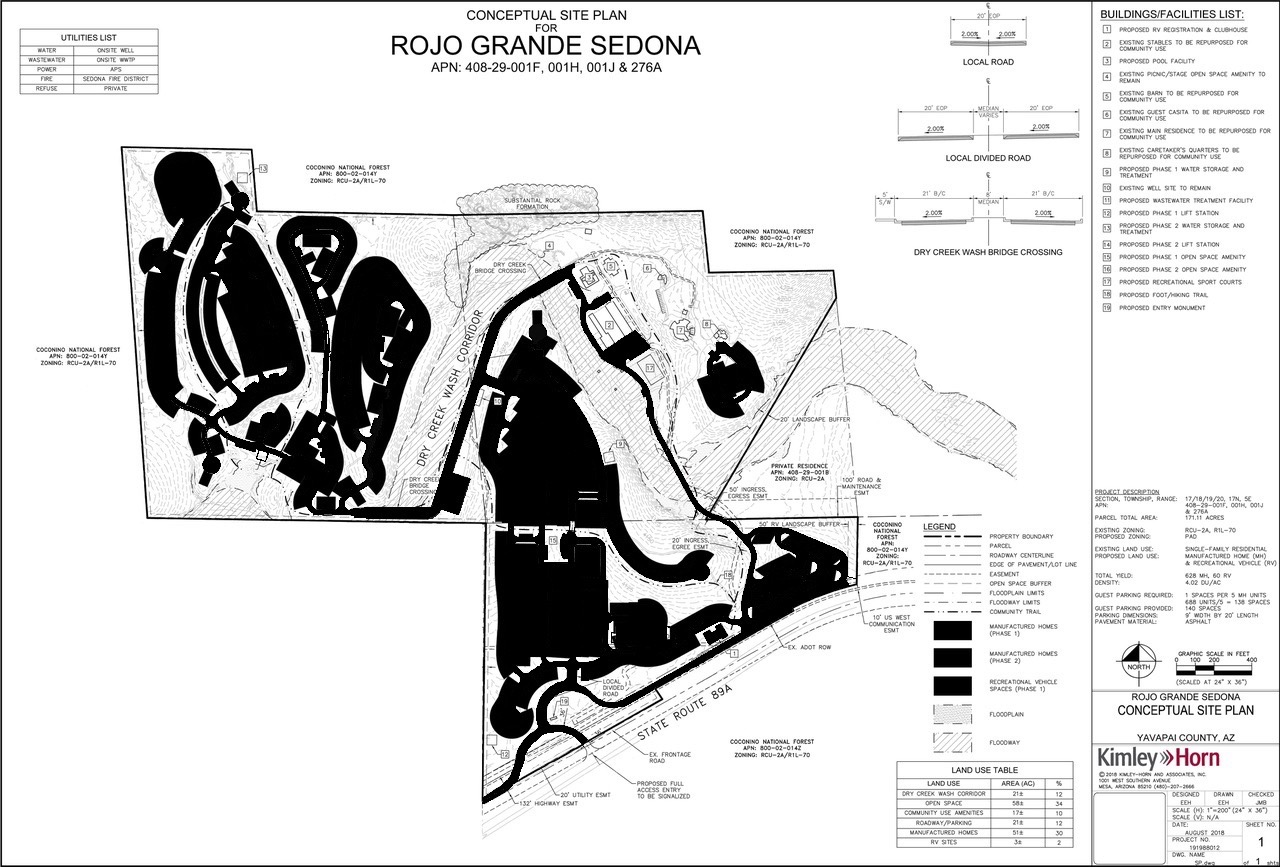 In contrast, the Google Earth image (just below it) shows the3 cement home sites as blackened areas.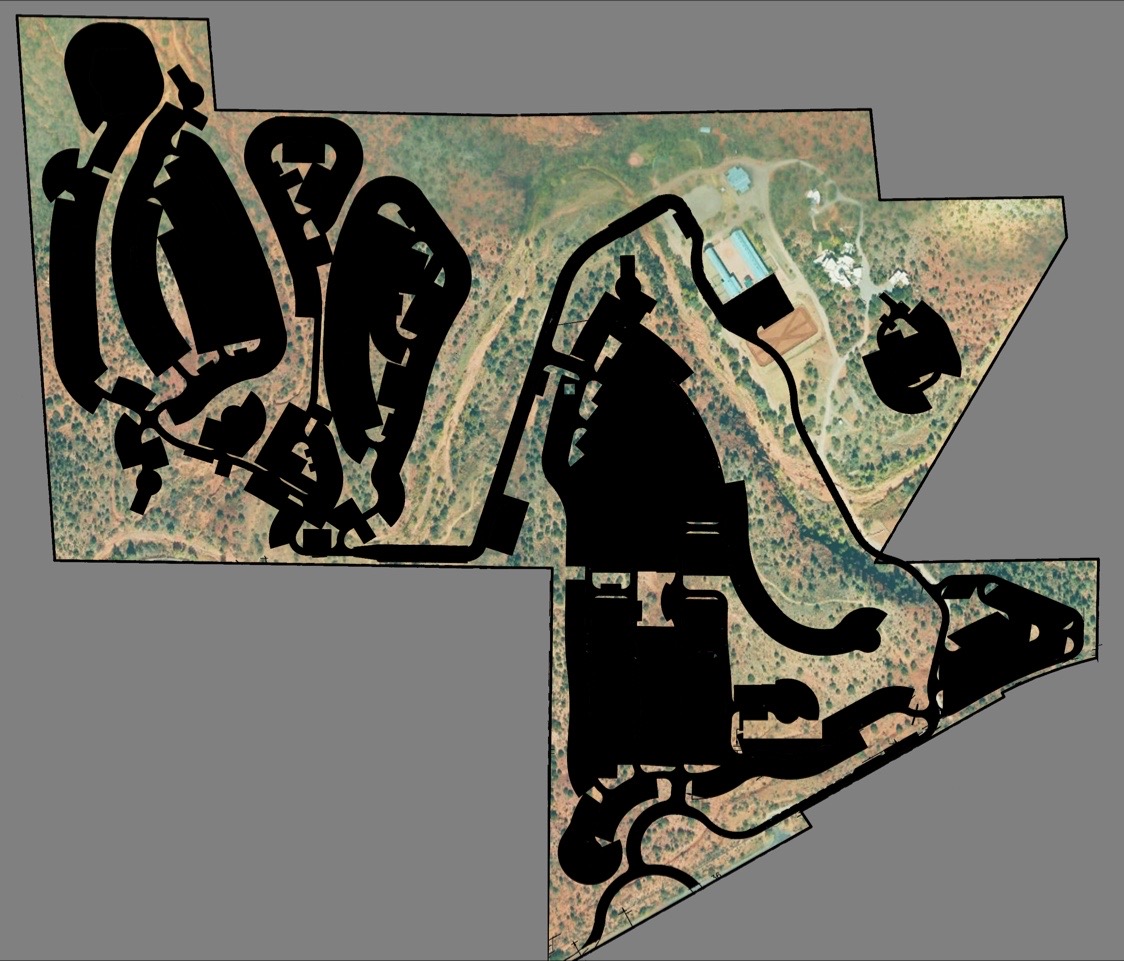 The construction process will involve:
Destruction and removal of virtually all native vegetation and trees – including some very ancient juniper trees, which are 200 years old, and might otherwise live for another 200 years.
Eviction and destruction of the habitats of birds, reptiles, amphibians, mammals and wildflowers.
Leveling of the land, removal of natural drainage, excavating and pouring of concrete footings, and trenching all across the Ranch for the utilities to the 688 cement pads for homes and RV sites.
Construction of a large sewage treatment plant adjacent to the creek, which will be vulnerable to flash floods.

* moved to Hiway 82 site

Construction of two massive concrete bridges that will be built very high above the creek, to prevent them from becoming dams when flash floods wash trees and other debris down the creek during monsoon seasons. One of these huge bridges will be 55 feet wide and 350 feet long, while the other will be 55 feet wide and 250 feet long. (They might need to construct a third bridge. However, that bridge is not shown on this map)
Note: Click on this website's tab labeled The Land and Water of Dry Creek to gain an understanding of the fragile nature of the Ranch ecology, and rain events.
The mobile homes across the park will be installed shoulder-to-shoulder along the asphalt roads. ELS says that the density of the housing will only be 4 homes per acre. However, they get that number by averaging the number of houses over the entire 172 acres of the Ranch  –  A closer look at their Letter of Intent reveals that a typical homesite will only be 50 by 70 feet.  Each lot is 3500 sq.ft. and there are 43,560 sq.ft. in one acre. Therefore, one can put 12.44 (let's call it 12) lots per acre.  There are currently plans for 50 RV's, making the total eventual PAD capable of 650 "residences".  This amounts to a 3500 square foot (0.08 acre) home site. With the homes arranged shoulder-to-shoulder, this amounts to a density of about 12.5 homes per acre!  A 720% INCREASE IN ZONING.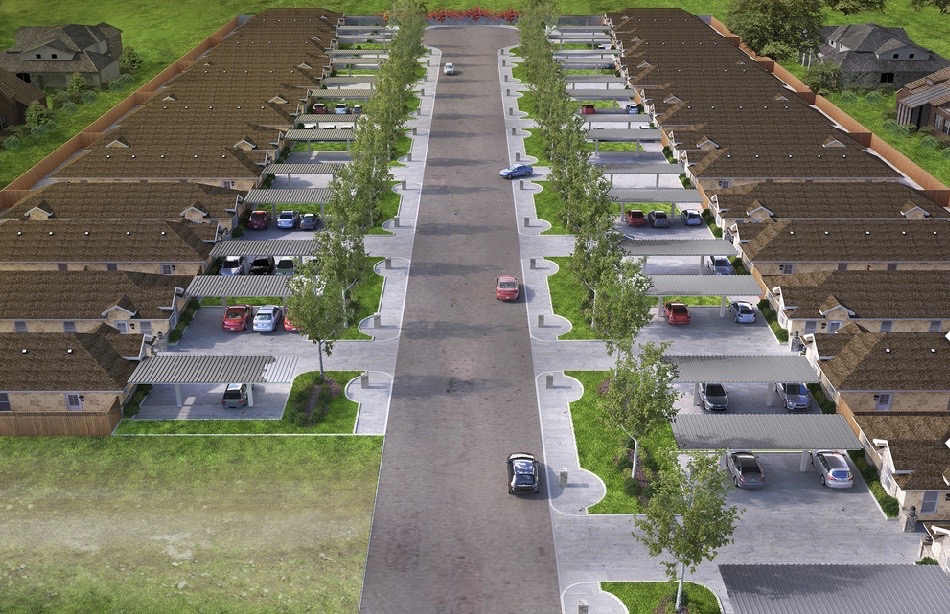 To Yavapai County,  please Say "no" to a change of Zoning and stop this inappropriate development at the entrance of Sedona on SR 89A , and at our Western gateway to the Mingus Mountain region.
CLICK ON ALL THE MAPS TO ENLARGE
One neighbor writes about the original development : "To give you an idea of the magnitude of this development, the 688 homes, with 2 people per home, will be equal to 13% of the current entire population of Sedona. In fact, it would take only 7 ½ of these developments to equal another Sedona."